4 Things You'll Experience After Switching To A Standing Desk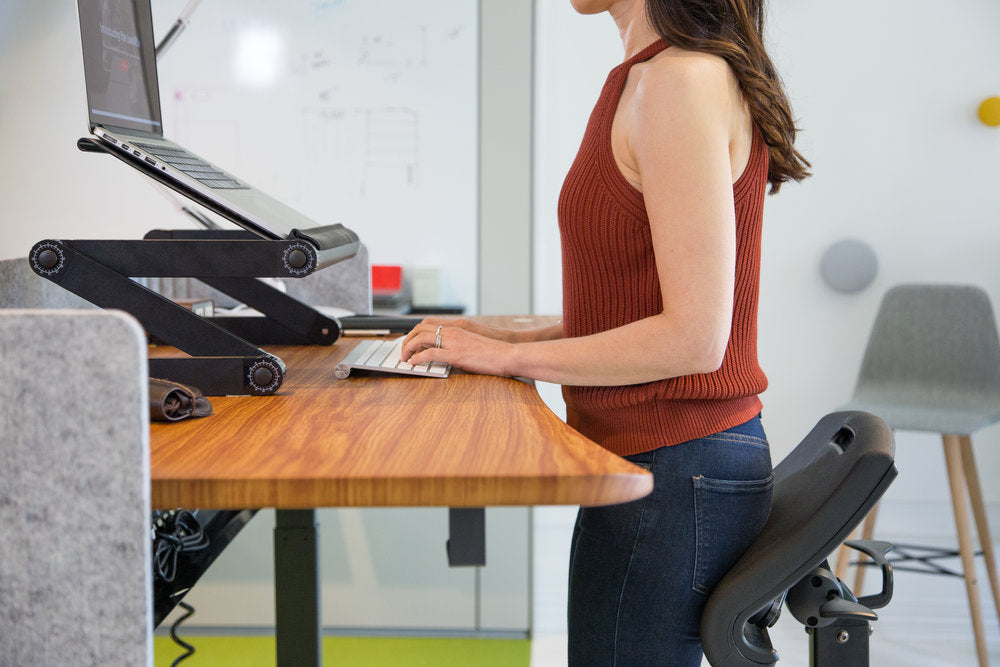 Making the switch to standing is a commitment to your health. One that requires adjustment of your routine and disruption of comfortable habits — no easy undertaking! But having an idea of what to expect always makes the transition smoother.
Without the proper footwear, anti-fatigue mat, and a supportive adjustable height chair, your feet will really feel it. That is, the weight of your whole body now upright. Maxwell Health CEO Veer Gidwaney — whose whole team has joined the 'standing desk revolution' — advises to invest in "proper anti-fatigue mats to cushion your feet and support proper spine alignment, along with high-quality adjustable height desk chairs to give you the option to sit when you like."
Another standing desk convert, Christine, in a piece for SmarterWare on switching to standing, describes a week's adjustment period, as the body gets accustomed to the new posture. This period, made easier of course by the proper footwear, mat and proper chair or leaning stool.
Without Support, Your Legs Will Get Tired
So if the gym is part of your routine (as it should be), and you want to maintain the physical energy and strength to keep at it while transitioning to standing, work out first thing in the day when your legs are fresh. As developer Nick Janetikus who transitioned to standing in effort to improve his posture, recommends "During the third day I felt like I had to take breaks every hour or 2 and it was distracting me to the point where I was less productive than sitting."
Again, if you do want to start out standing with no chair, expect fatigue in the legs. Elevate them at the end of the day to relieve this fatigue, prevent varicose veins, and alleviate the pooling of blood that can lead to serious health issues.
But long-term, an adjustable-height or standing desk chair designed to accompany a standing desk is highly recommended for maintaining energy, strength, and good posture throughout the day.
Your Mind Will Work Better
Both in the body and for the mind, you already know that movement is good for you. In hand with the physical benefits, shifting between postural positions throughout the day gives you a more conscious and active command over your focus. As standing desk evangelizer Gina Trapani is testament to, "Thanks to my standing desk, I began naturally splitting activities up into active work and passive work... Explicitly shifting gears like that helps my brain tackle the right kind of work given my physical and mental capacity at the moment."
Breaks of motion and movement also act as 'pick-me-ups' for your brain and body when your energy and focus are lagging. Jack Groppel, recognized as a pioneer of human performance, has drawn this important connection between movement and intellectual output in his research, offering, "A lot of people are doing this type of thing, moving at regular intervals throughout the day... We were looking specifically at what happens with the brain, what happens with energy, what happens with engagement."
Movement Is the Key to Freedom From Pain
Movement best allowed with a chair that adjusts to support numerous positions, sit-to-stand. Take the LeanRite Elite (pictured below) which provides support and relief for the body through 'lean', 'perch', 'sit', and 'stool height' postures. The LeanRite has an anti-fatigue mat built-in to further reduce the stress of standing. This adjustability allows your body to work dynamically through multiple positions pain-free, and with neutral posture maintained. If unfamiliar with the term — think of 'neutral posture' as the healthy, natural alignment of the spine :)
You might be thinking, 'Wasn't the whole point of getting my standing desk to rid the chair?' Unfortunately, standing unsupported for hours at a time is simply too taxing on the body to sustain without pain, fatigue, and injury. But the right chair, designed with direction from professionals in ergonomics, orthopedics, and physical therapy, and built to make standing comfortable and easy — allows you to discover all that a standing desk has to offer.
The LeanRite Elite in use:
But we want to hear how your journey with your standing desk is going... What have you experienced along the way that was unexpected, difficult, or even surprising in a good or bad way?
---