Ergo Impact featured in Business of Furniture (BOF)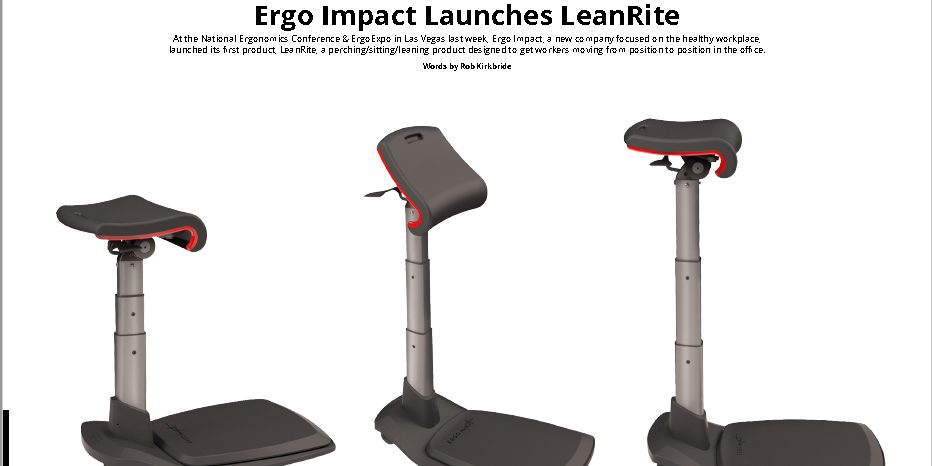 Ergo Impact is thrilled to be featured in a leading industry publication, Business of Furniture (BOF)—a weekly journal dedicated to covering top trends, new products and tracking the finances of the office interiors industry.
"It's an honor to be featured in a prestigious publication such as Business of Furniture, and to be recognized with top brands like Herman Miller and Focal that continue to shape the industry of ergonomics," said Founder and CEO of Ergo Impact Jonathan Sheinkop. "This feature is a testament to the work and commitment of Ergo Impact as we continue to expand our footprint within the market and provide reliable, innovative ergonomic solutions to customers."
"If sitting is the new smoking, standing too long in the office is the new chewing tobacco. Both sitting too long and standing too long are unhealthy. So it is no surprise a host of new products are heading to the market to get workers somewhere in between," the BOF article begins.
The 3-page feature covered the necessity of a product such as LeanRiteTM, a first-of-its-kind chair for standing desk users that allows a wide range of healthy positions to work from, including sit, stand, perch, lean.
"Our bodies crave mobility and people love the proven health benefits inherent in standing more while working until they encounter the fatigue, poor posture and pain due to prolonged standing without proper support," said Sheinkop. LeanRite was specifically designed to complement the growing trend of mobile-savvy work environments.
Sheinkop successfully launched LeanRiteTM at the 2016 National Ergonomics Conference & ErgoExpo and scores of attendees were excited to try it out. The product was also nominated for the prestigious Ergo Expo Attendees' Choice Awards – quite an accomplishment for a new product and new brand!
"The show confirmed that LeanRite is not only a much-needed product, but the sleek design really resonated with the design community as well. We are proud to bring LeanRite to market and provide relief for countless people looking to sit less and move more."
The informative BOF piece also delved into how LeanRite encourages healthy posture, and in turn improves worker productivity in any position. The product effortlessly integrates into any office as it offers flexibility and relief. Sheinkop collaborated with leading specialists in the fields of orthopedics and contemporary furniture to ensure LeanRite offers ergonomic posture support so that workers comfortably stand longer throughout the workday.
to read the entire feature and follow Ergo Impact online to be the first to get updates regarding LeanRite, Facebook, Twitter & LinkedIn.
---