LeanRite Launched at National Ergonomics Conference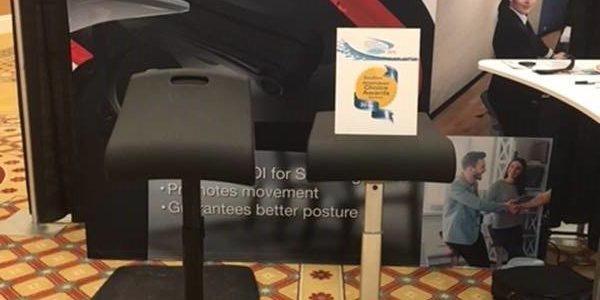 The Ergo Impact team enjoyed connecting with leading ergo vendors at the National Ergonomics Conference & ErgoExpo. Informative workshops and sessions held throughout the conference were led by industry professionals and covered trending industry topics, while offering strategic forward-looking insights.
On the showroom floor, we successfully launched our new product, LeanRiteTM and scores of attendees were excited to try it out. "The feedback we received was phenomenal and very encouraging," said Ergo Impact Founder Jonathan Sheinkop. "The show confirmed that LeanRite is not only a much-needed product, but the sleek design really resonated with the design community as well. We are proud to bring LeanRite to market and provide relief for countless people looking to sit less and move more."
The first-of-its-kind chair, provides a seamless blend of orthopedics and ergonomics and is designed to offer standing desk users a wide variety of comfortable and healthy positions to work from, including sit-stand-perch-lean. LeanRite effortlessly integrates into any office as it offers flexibility and relief.
We were honored that LeanRite was nominated for the prestigious Ergo Expo Attendees' Choice Awards – quite an accomplishment for a new product and new brand!
A special thanks to the amazing SiS Ergo team for providing us with one of their high-quality standing desks to use throughout the show. The office interiors firm offers innovative ergonomic products that cater to today's active and modern workplace. The desk was the perfect companion to showcase the benefits of LeanRite.
Check out our gallery to see highlights from the show!
Click here to learn more about LeanRite and reserve yours now!
---