Ergo Impact Launches a First Sit-Stand-Lean-Perch chair at ErgoExpo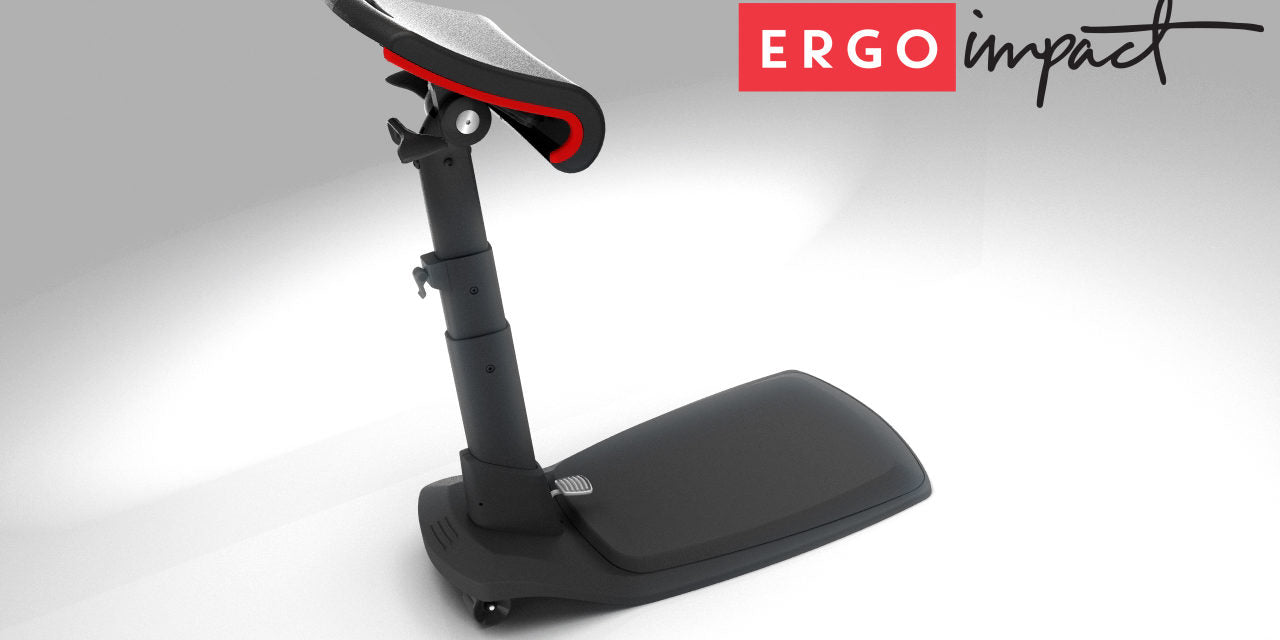 The innovative new design complements the standing movement; engineered to promote comfortable standing and proper posture while using adjustable height desks
Ergo Impact, a company focused on designing, manufacturing and distributing innovative and ergonomically engineered office furnishings, launches its first production ready product, LeanRite Elite™, during the upcoming National Ergonomics Conference & ErgoExpo in Las Vegas. Providing a seamless blend of orthopedics and ergonomics, LeanRite is a first-of-its-kind chair for standing desk users, that allows sit-stand-perch-lean. LeanRite effortlessly integrates into the office by adjusting to the widest variety of comfortable and healthy positions to work from.
Adjustable height desks are the absolute standard for a healthy workplace, notes Jonathan Sheinkop, Founder and CEO of Ergo Impact. "Our bodies crave mobility and people love the proven health benefits inherent in standing more while working until they encounter the fatigue, poor posture, and pain due to prolonged standing without proper support." The solution? A fully adjustable seating system. "With the LeanRite, we have engineered an easier way to maintain best practices for a healthful workplace, while helping people actually stay focused on their work. In addition to sitting or standing, it provides two additional 'support' options – leaning and perching – that complement standing while providing flexibility and relief."
Designed and developed in collaboration with leading specialists in the fields of orthopedics and contemporary furniture, LeanRite is crafted from high grade aluminum and helps workers comfortably stand longer by leaning into an adjustable seat that offers ergonomic posture support. Adjustability ranges from 23.5 inches to 45.5 inches; a 22-inch range – more than twice the average range available via competitor products.
ErgoExpo attendees will be able to test LeanRite at booth #544 and experience firsthand how the LeanRite provides a comfortable surface to support standing and also allows leaning, perching, and sitting for occasional rest and relief.
"LeanRite delivers on our brand promise to sit less, move more and live better," states Sheinkop.  "In addition, we believe LeanRite allows users to experience increased productivity and feel healthier while maintaining an optimal wellness lifestyle all day long."
LeanRite is available in select finishes with a variety of custom color choices. Reserve yours in person or online during ErgoExpo, taking place Nov. 15-18, 2016 in Las Vegas. For more information, visit www.ergoimpact.com.
About Ergo Impact
Grounded in orthopedics and ergonomics, Ergo Impact designs, manufactures, and distributes office furnishings including LeanRite™, a first-of-its-kind chair for standing desk users, that allows sit-stand-perch-lean. Based in Chicago, with distribution nationwide, LeanRite delivers on its brand promise: Sit less. Move more. Live better. Join our conversation via Twitter and Facebook. For more information, visit www.ergoimpact.com.
---