The Ergonomic Footrest: an Essential Accessory to Any Desk — Sitting, Standing, or Height-adjustable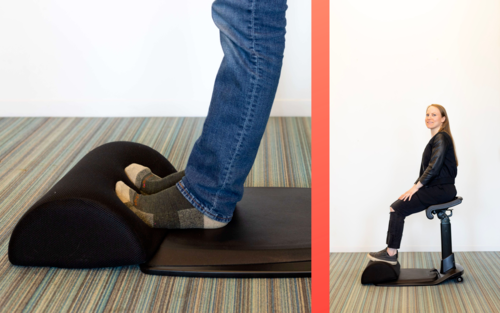 An ergonomic under desk footrest is a tool that our team considers essential to any style of desk. Whether you sit, stand, or do a mix of both throughout the day, it's an absolute game-changer for your comfort and overall well-being.
The principle of a footrest: support + movement 
Elevate your feet in a comfortable position and give yourself more places to rest them. The concept behind the ergonomic desk footrest is simple but powerful. When you have more places to rest your feet, you are more likely to move your legs around throughout the day. Options encourage subtle variety in postures — or movement. And movement at the desk is comfortable, healthy, and energizing.

Principle #1: Elevate your feet at a height comfortable for your body
Principle #2: Allow and facilitate movement 
Benefits of using a footrest, whether you work at a sitting, standing, or adjustable-height desk
Prevent computer-work and posture-related RSI's by elevating feet and legs to a comfortable, healthy height

Improve posture and reduce back pain by facilitating more ergonomic postural angles through the entire body

Move more at the desk

Prevent numbness aches fatigue and stiffness that result from static muscles — by moving more

Improve circulation 

Increase energy levels 

Heighten focus — especially with active footrest
→ Note: We delve into the specific benefits of using a footrest at each style of desk below
Kinds of footrests: stationary, swinging, rocking, and beyond… 
Any quality footrest will elevate your feet at a height comfortable for your body. Where movement comes into play is where things get interesting — different models facilitate different kinds of movements: think tilting, swinging, swaying, or rocking...
The more basic products include the simple foot bar, stool, rail, or cushion, the leg rest, or the slant, incline, or calf stretch board. These give you a comfortable place to set your feet and stretch out.
The more advanced products include the foot swing, rocker, hammock, fidget bar, or peddler. Think of these as active or dynamic footrests. The concept behind these active footrests is something we talk about a lot: the body thrives when in motion. And an active, dynamic footrest simply allows you to keep your legs and feet in motion as you naturally want to. Many products on the market are silent and well-designed; your colleagues won't even notice that your feet and legs are moving beneath the desk. 
Different models will also be surfaced with different materials — some have a bumpy surface to allow you to massage your feet and encourage circulation. Most foot cushions are covered with a comfortable plush microfiber fabric or a microbead grip-covered fabric that provides a sort of anti-slip tread. And many hard footrests will be surfaced with an industrial texture similar to sandpaper. Here's a link to our favorite footrest.
→ Note: Before you hit the market, consider what kind of shoes you typically wear at your desk and whether you'd like to work barefoot or in your socks from time to time — this may influence what model you choose. 
An ergonomic footrest makes sitting more comfortable — and encourages active sitting 
Recall how bummed out you'd be in high-school when the desk in front of you didn't have a footrest. Wanting to elevate your feet while sitting at a desk is a natural desire. 
And a footrest not only supports the feet at a height comfortable for your body. It encourages active, or dynamic sitting — or movement at the desk. Even a stationary footrest encourages movement by giving you more, comfortable places to set your feet — wider or closer together on its rigid platform or at different points on the curve of its cushion, for instance.
A footrest that adjusts in angle is built with a wide platform that rotates forward and backward. You can adjust it to rest your feet at different points of flexion and extension throughout the day, facilitating this awesome variety in your posture — or, again, movement.
And an active or dynamic footrest encourages active sitting by the obvious means: it allows you to rock, swing, and sway your feet beneath your desk as you sit.
---