Can You Purchase an Ergonomic Office Chair with an FSA/HSA Account?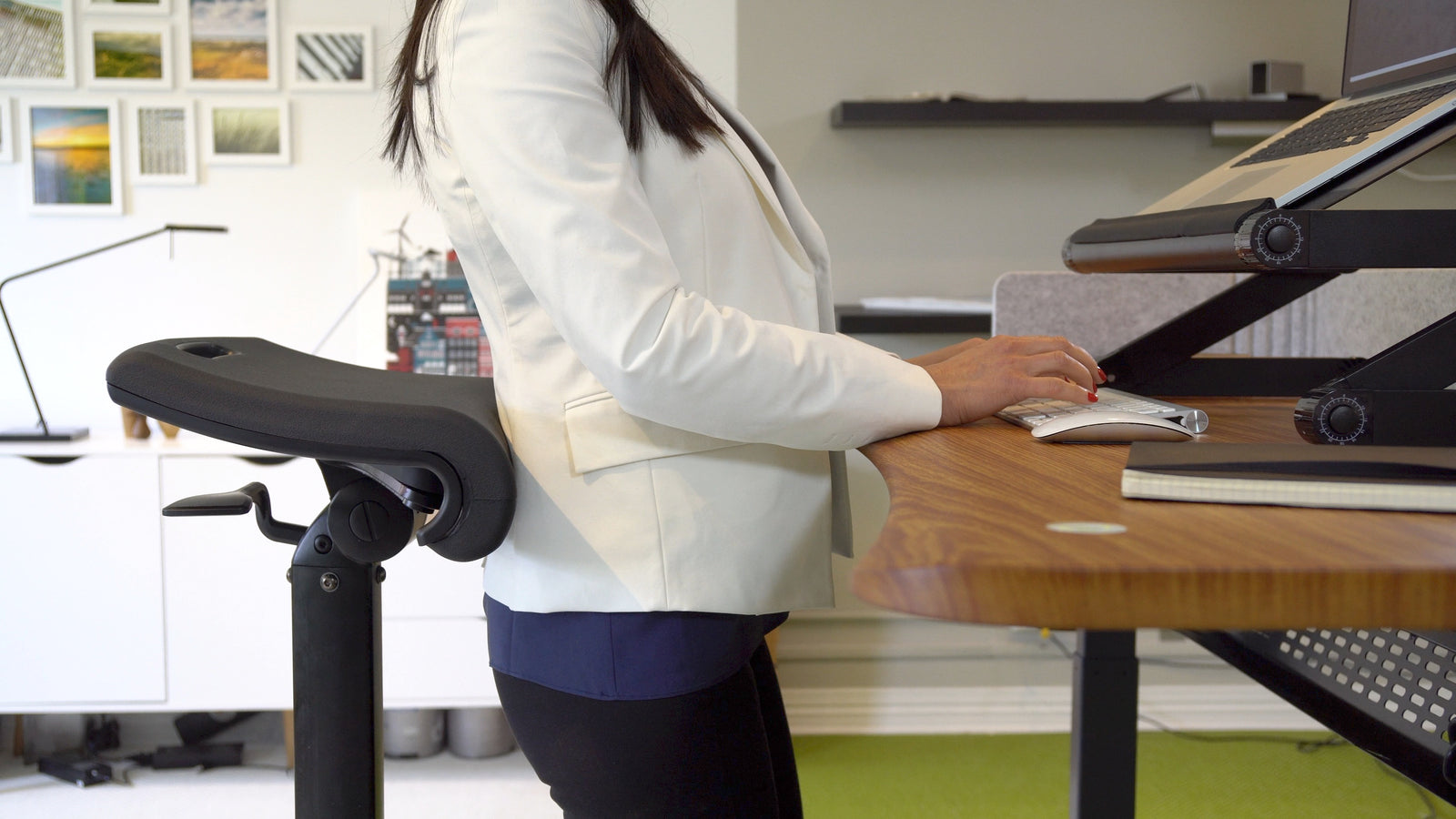 Can You Purchase an Ergonomic Office Chair with an FSA/HSA Account?
Yes, it's possible! Here are a few tips to help get you there.
How do you use the money in the account?
While you may have a special debit card from your health account, specialty items like ergonomic office furniture including chairs and desks will likely require you to pay out of pocket and submit your receipt for reimbursement to your company or your FSA administrator.  It's a good idea to pre-verify with your employer or the insurance provider. To satisfy their requirements, you will very likely need a Letter of Medical Necessity (LMN) from a doctor or chiropractor, which we will discuss in this article.
The first thing you can do is to contact Ergo Impact (through our website contact form) and request for us to email you the template information that can help you obtain the Letter of Medical Necessity. By having that information ready, you will make it much easier for your doctor to understand the documented benefits of the LeanRite™ and for them to write you an approved letter. 
The second thing is to purchase your LeanRite™ Elite from the Ergo Impact website (using your own payment method). Assuming the LeanRite is in stock, you will expect delivery in 2-5 business days.
We will automatically email you a receipt so you can submit a claim to your FSA/HSA administrator so you can be reimbursed for your eligible purchase. Assuming you have a prescription (LMN) from a doctor, you should be in good order but check first.
To summarize: 
1. Request LMN information by contacting us at ERGOIMPACT.COM.
2. Purchase your LeanRite™ unit and save your receipt.
3. Obtain your claim form from your FSA welcome packet, or your plan administrator can provide one to you. Often the form can be found on the website of your FSA provider company. They may even offer online submissions.
4. Fill out and submit all relevant documents.
5. Standard reimbursements occur in 9-14 days.
What is a Letter of Medical Necessity (LMN)?
A Letter of Medical Necessity (LMN) is a letter in which your doctor outlines how a specific medical device or product is necessary to alleviate a medical condition that you have. For those who suffer from sciatica (for example), the LeanRiteTM Elite standing chair can provide the spinal support to work comfortably and possibly reduce back pain.
What Should Be Included in the LMN?
To prove that LeanRite Elite is medically necessary, make sure you and your doctor include the following information in your letter.
Patient Information
Patient's name
Patient's date of birth
Name of the insurance policyholder
Policy number
Group number
Date of the letter Physician Information
Name of treating physician
Area of specialty
Physician's License number
Physician's contact information
Date of the last exam performed by the physician
Diagnosis
Include the medical term for the diagnosis that necessitates the product or treatment. Make sure the diagnosis is specific and is written using medical terminology (See our LMN templates).
Recommended Treatment
The letter should name the recommended treatment, including the length of therapy and the intended effect. The duration of the recommended treatment should have a start and end date. Although an LMN for LeanRite Elite may not need to indicate therapy duration since you will be seeking reimbursement for a one-time purchase.
Relevant Medical History
The letter should include any relevant medical history related to your diagnosis. Have your doctor document any recent ER visits, past treatments, and medical procedures to demonstrate the need for a solution. If the insurance company sees that you have tried several things to remedy your health problem with no success, they will be more inclined to consider approving your request.
Demonstrate Medical Necessity
Make sure your LMN answers the most critical question: Why is a LeanRite Elite medically necessary? Mention how you expect the product to prevent your back pain from getting worse or improve your life quality. Assuming it's the truth, state that you don't know of any other product that is more effective or costs less.
Summary Section
Keep this section as brief and to the point as possible. Leave no room for misunderstanding and repeat your most persuasive argument that supports the medical necessity.
Physician Signature
Don't forget to have your physician sign the letter. Without a physician's signature, your insurance company will reject your claim. Remember, the Letter of Medical Necessity is a legal document only when coming from a licensed physician. In addition to your doctor's signature, have him include his specialty, license number, and contact information.
Supporting Literature
If your letter contains any product claims, include the clinical study that supports it. In the case of LeanRite Elite, this is one study you may want to submit to your insurance company to demonstrate the unique ability of LeanRite Elite to offer a hybrid position of perch that puts the least amount of stress on the back. Clinical literature published in peer-reviewed medical journals (such as the case with the above study) weighs heavily when the insurance company reviews your claim.
How to Choose a Standing Desk Chair for Low Back Pain?
Standing desk chairs that facilitate a perching posture are considered the most ideal for many back pain sufferers. According to the study from the University of Waterloo, a perching posture puts the least load on the spine, particularly beneficial for those who suffer from low back pain. A perching posture has been shown to put the spine in a neutral position allowing for a natural alignment that may reduce low back pain, making 'perching' the best way to 'sit.'
Image source: https://www.ctvnews.ca/health/perching-could-reduce-lower-back-pain-more-than-sitting-standing-new-study-1.4305447
_________________________________________________________________
"Perching is defined by a range of trunk-thigh angles, where the lumbopelvic angle is significantly different from sitting or standing."
Noguchi, Glinka, Mayberry, Noguchi, Callaghan, 2019
________________________________________________________________
Sciatica Treatment Options
Severe low back pain associated with sciatica can cause severe disruptions to your life. The pain of sciatica can interfere with and even impede your ability to work or perform necessary daily physical activities like household chores. Tests to diagnose sciatica and treatment options to manage the condition can be expensive if your medical insurance does not cover them.
Treatments for sciatica often involve making changes to your everyday life, such as shifting to ergonomic seating at your office to relieve the pain, helping you adopt proper postures, and strengthening your back. When it comes to choosing a standing desk chair to help with your back pain, keep in mind that not all ergonomic standing chairs are created equal.
Why is a LeanRite Elite the Best Standing Desk Chair for Low Back Pain and Sciatica?
Switching to an ergonomic seat or standing desk chair at work is a wise step towards reducing sciatica's impact on your life. In peer-reviewed clinical trials, doctors have shown LeanRite Elite's ability to support sciatica sufferers' need to work at a standing desk comfortably.
To provide optimum spinal support, LeanRite Elite has the following design features:
Provide 'standing support' to the gluteal and lumbar regions to make the transition to standing more comfortable 
Brace your lower back at the ideal spot through adjustable lumbar support to ease sciatica pain
Guarantee fine-grain control over the distribution of your weight through precise adjustability of seat pitch and chair height
Support your spine and pelvis in neutral positions, relieving pressure on the sciatic nerve
Pair well with an ergonomic footrest
Support you in a 'perching' or 'leaning' posture — a hybrid sit-stand posture proven to reduce low back pain
Adjust effortlessly and dynamically to support multiple positions, encouraging movement
*This is provided for informational purposes only and is not intended to replace the advice of a qualified accountant or tax professional. Consult your tax advisor for assistance. Consult your FSA administrator for all relevant reimbursement questions. 
*LMN templates are for information purposes only and intended as a reference for a licensed medical practitioner and make no assumption as to whether a person has any specific ailment or medical condition.
*The LeanRite Elite is an ergonomic standing desk chair and is not intended to cure any disease. Each individual's experience with the product may be different.
---